ACADEMY AWARDS - OSCARS   FEBRUARY 22, 2009

Horticultural Stock Photography, Design and Printing Service for Full Color Business Cards and Postcards, Seasonal Photo Greeting Cards, Event Photography and Oscars Pre-Event Coverage, Celebrities' Charities


BEST FOREIGN LANGUAGE FILM - WINNER AND NOMINEES

Copyright 1999-2009 4seasons Photography. All rights reserved.

"Making a movie is like a marriage - You should fall in love with the idea first

because you'll be spending a lot of time with the project"

                                                                                            Götz Spielmann, Austria

The 31st Foreign Language Film Symposium once again attracted a large audience from around the world. The Samuel Goldwyn Theater at the Academy of Motion Picture Arts and Sciences was packed with nominated cast and crew members, media representatives, jury members, distinguished guests and fans.

With 67 countries submitting their film a new record was set. Each of the films is viewed by a 400 member voting board, which, by the way, included Keanu Reeves. It is the rule, that films must be seen in film format at a movie theater and not on DVD.

Moderator Mark Johnson mentions, that 1/4 of the submitted films deal with the Holocaust, a clear indication, that the healing process is ongoing. He also reveals, that we are on the doorsteps of discovering amazing directors from South America.

Although there is no common thread tying together the nominated films this year, they stand out by being inventive - A live-action autobiography from Israel, a near-documentary from France, a historic study from Germany, a unique revenge thriller from Austria and the introduction of a rather unknown profession by Japan.

But the making of these films is usually as fascinating and interesting as the films themselves.

TO BE CONTINUED SOON...

WALTZ WITH BASHIR

ISRAEL

directed by Ari Folman

CAST

Ari Folman

Ori Sivan

Roni Dayag

Shmuel Frenkel

Ron Ben Yisahi

Dror Harazi

Boaz Rein Buskila

Carmi Cna'an

Yehezkel Lazarov

Photographer was on assignment for "German World Magazine" - All photos taken with prof. equipment

THE CLASS

FRANCE

directed by Laurent Cantet

CAST: François Bégaudeau

Nassim Amrabt, Laura Baquela, Cherif Bounaïdja Rachedi, Juliette Demaille, Dalla Doucouré, Arthur Fogel, Damien Gomes, Louise Grinberg, Qifei Huang, Wei Huang, Franck Keïta, Henriette Kasaruhanda, Lucie Landrevie, Agame Malembo-Emene, Rabah Naït Oufella, Carl Nanor, Esmeralda Ouertani, Burak Özyilmaz, Eva Paradiso, Rachel Régulier, Angelica Sancio, Samantha Soupirot, Boubacar Touré, Justine Wu, Atouma Dioumassy, Nitany Gueyes, Vincent Caire, Olivier Dupeyron, Patrick Dureuil,  Frédéric Faujas, Dorothée Guilbot, Cécile Lagarde, Anne Langlois, Yvette Mournetas, Vincent Robert II,

Anne Wallimann-Charp

THE BAADER MEINHOF COMPLEX

GERMANY

directed by Uli Edel

CAST

Martina Gedeck

Moritz Bleibtreu

Alexandra Maria Lara

Karoline Herfurth

Bruno Ganz

DEPARTURES

JAPAN

directed by Yojiro Takita

CAST

Masahiro Motoki

Tsutomu Yamazaki

Ryoko Hirosue

Kimiko Yo

Takashi Sasano

Kazuko Yoshiyuki

Unfortunately, director Yojiro Takita was not able to attend Friday's photo op, but did join the other directors at the symposium on Saturday.

The Directors of the Oscar nominated

Best Foreign Language Films

from left to right:

Götz Spielmann - Austria

Laurent Cantet - France

Ari Folman - Israel

Uli Edel - Germany

Yojiro Takita - Japan

was not able to make it in time for this event

The "In & Out" Photo Shoot

In all these years that I've covered the Oscars pre-events, I've never experienced a faster photo shoot than the one today - or as a colleague put it: "It actually took me longer to get dressed this morning [than this shoot lasted]".

Probably still haunted by last year's media frenzy, AMPAS made sure, that this year the chaos would not repeat itself (
click here
for last year's report).
Press call for stills photographers was 9:00 am - by 9:18 am we were told, that we're done. We were then quickly ushered out of the auditorium of the Academy's Linwood Dunn Theater in Hollywood to make room for the Video and TV crews, who've been waiting patiently in the foyer.

It was a well-organized, fast-paced shoot and despite the rush, everyone seems to have gotten the pictures they needed. In the end, that's all that counts, I guess.

15 YEARS OF PHOTOGRAPHY AND DESIGN EXPERIENCE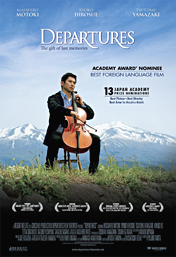 REVANCHE

AUSTRIA

directed by Götz Spielmann

CAST

Johannes Krisch

Ursula Strauss

Andreas Lust

Irina Potapenko

Hannes Thanheiser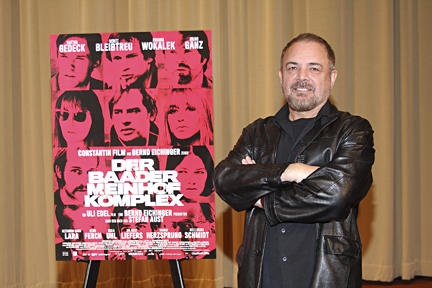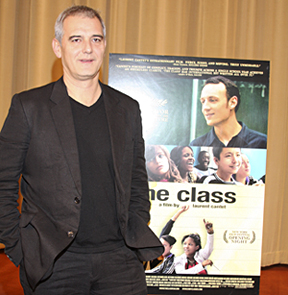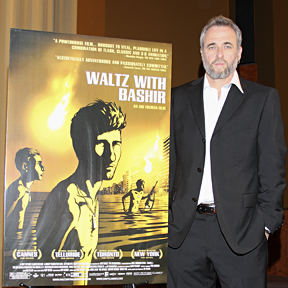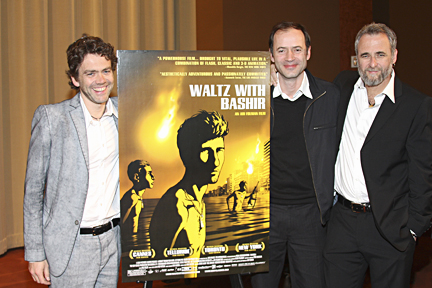 Ari Folman (R)

with his producers

Roman Paul (L) and Gerhard Meixner (C)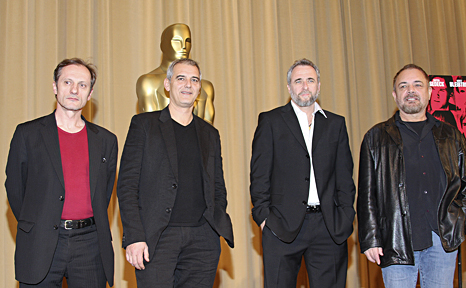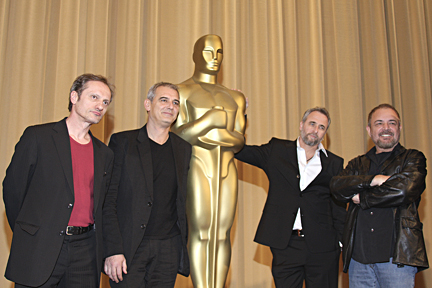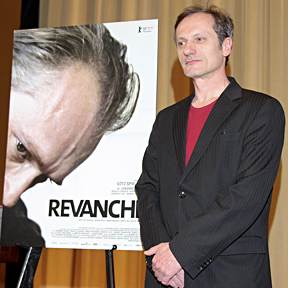 Above:

Director

Götz Spielmann

Left:

Actor

Johannes Krisch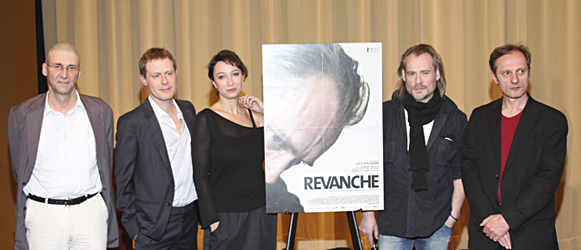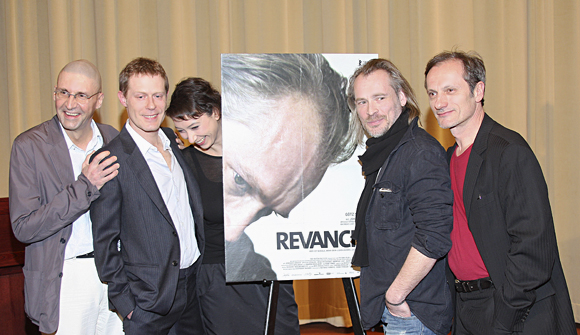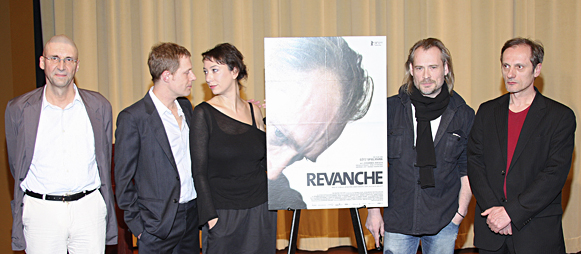 Producer Mathias Forberg, Actors Andreas Lust, Ursula Strauss, Johannes Krisch, and Director Götz Spielmann pose for the media. At first, they seem a little unsure on how to respond to the relentless flashes fired at them. Then a photographer suggests, that they "move closer together..." - "just pretend you like each other..."

...which prompts Götz Spielmann to ask: "Won't that be taken the wrong way?" [laughter all around] "This is LA - Anything goes!!" someone shouts, to which Spielmann sheepishly asks "So, Hollywood wants to be taken the wrong way??" [now everyone cracks up with laughter]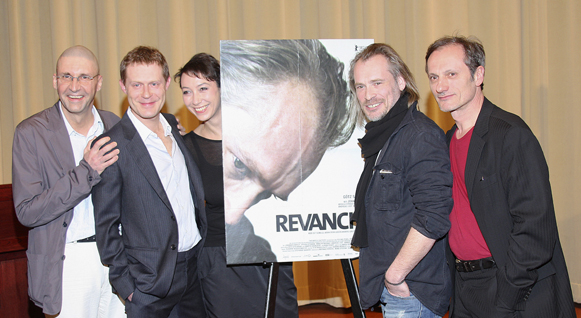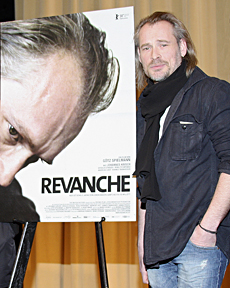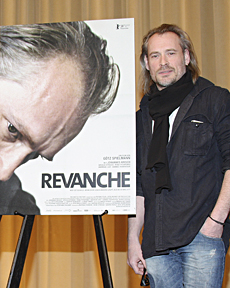 CONGRATULATIONS  ON  YOUR  OSCAR !